Why the Performing Arts?
The performing arts encompass a rich tapestry of creative disciplines, including theater, dance, music, and more. Engaging in these activities can be a transformative experience for children, offering a multitude of benefits that extend beyond the stage. At FAPA, we believe the performing arts are a great activity for children: fostering personal development, enhancing social skills, and providing a platform for self-expression.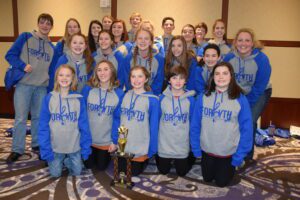 Participation in the performing arts contributes in a meaningful way to a child's personal development. First and foremost, it nurtures self-confidence. When a child takes to the stage, they learn to overcome stage fright and develop a sense of self-assuredness. This newfound self-confidence extends to other aspects of their lives, empowering them to face challenges with resilience and poise. Additionally, the performing arts promote discipline and dedication. Rehearsing for a role in a play or mastering a complex dance routine requires commitment and practice. Children learn the value of hard work and the satisfaction of seeing their efforts culminate in a successful performance. These experiences instill a strong work ethic that can serve them well in their academic and professional endeavors. Moreover, the performing arts encourage creativity and imagination. Whether a child is portraying a character in a play or choreographing a dance, they are given the opportunity to explore their creativity and think outside the box. This fosters a sense of innovation that can be applied to problem-solving in various aspects of life.
Participating in the performing arts is a communal experience that enhances a child's social skills. Through collaboration with peers, they learn the importance of teamwork and cooperation. In a theater production, for instance, actors must rely on one another to create a cohesive and engaging performance. This collaborative spirit extends to life beyond the stage, teaching children the value of working harmoniously with others. The performing arts also encourages empathy. As children take on different roles and characters, they gain insight into diverse perspectives and emotions. This deepens their understanding of human nature and helps them develop empathy towards others. These experiences make children more compassionate and tolerant individuals, contributing positively to their interactions with peers and society at large.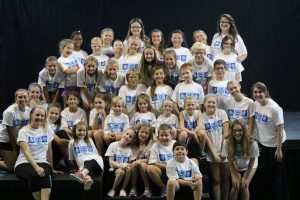 Children often have a multitude of thoughts, feelings, and ideas that they struggle to articulate. The performing arts provide them with a powerful outlet for self-expression. Through acting, dancing, or playing an instrument, they can convey emotions and messages that may be difficult to express verbally. This platform for self-expression is particularly valuable for children who may be introverted or have difficulty communicating their thoughts and feelings. The performing arts offer a safe and supportive environment where they can break out of their shells and develop their voice. As they gain confidence in their ability to express themselves, they become better equipped to navigate the complexities of interpersonal communication.
At FAPA, we strongly believe in the value that the arts provide for children and young adults. Our mission is to foster a creative, safe, professional environment for students to develop skills essential to the performing arts and beyond. We believe that studying the arts sets children up for success in all areas of their lives whether they choose to pursue a career in the arts or not and it's why our core values reflect development in so many soft skills that serve students well regardless of age or stage of life: developing technique, growing confidence, building relationships and practicing responsibility. And the best part? It's REALLY fun!!
Why Choose FAPA?
Professional Instruction:

FAPA prides itself on having a team of highly skilled and experienced instructors who are not only passionate about their craft but also dedicated to nurturing young talent. Our teaching artists love to invest their knowledge and expertise in our students, ensuring that they receive top-notch training in their chosen performing art forms.

Diverse Offerings

: FAPA offers a wide range of performing arts disciplines, including theater, dance, music, and more. This diversity allows children to explore various forms of expression and discover their true interests and talents.

Holistic Development:

Beyond technical skills, FAPA emphasizes the importance of personal development. Through performing arts, children learn discipline, teamwork, and time management. These skills translate well into other aspects of their lives, including academics and future careers.

Confidence Building:

FAPA works diligently to instill self-confidence in our students. As children regularly perform in front of their peers and audiences, they overcome stage fright and develop a strong sense of self-assuredness. This newfound confidence can have a positive impact on their social interactions and future endeavors.

Inclusivity:

FAPA is committed to inclusivity, welcoming children from diverse backgrounds and abilities. It fosters an environment where every child feels valued and supported, regardless of their level of experience.

Performance Opportunities:

FAPA offers ample opportunities for children to showcase their talents. Regular performances and recitals are organized, allowing students to apply what they've learned in a real-world setting. These performances boost their self-esteem and provide a sense of accomplishment.

Community and Friendship:

Enrolling at FAPA often leads to lasting friendships. Students bond over shared interests and experiences, creating a sense of belonging and camaraderie that can be invaluable during their formative years.

Safe and Supportive Environment:

Above all, FAPA prioritizes the safety and well-being of its students. It provides a nurturing and supportive environment where children can explore their talents without fear of judgment or criticism.